Our focus is you—the member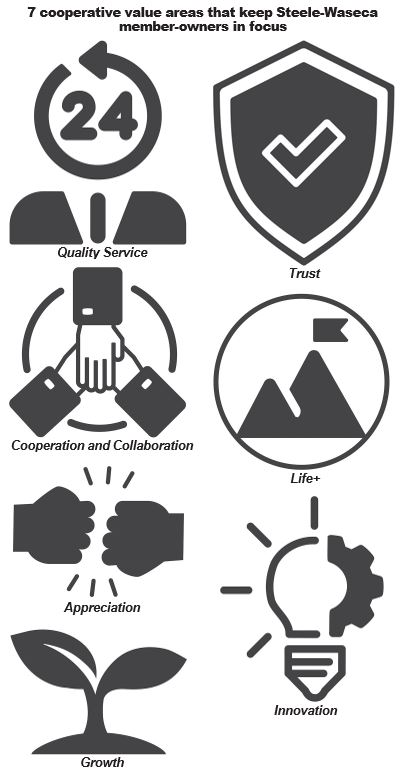 Here's a fun question: how do you show value?
One could do this by telling about price in comparable products. One could tell about value through accessibility or timeliness of a product. We could tell you about the value of eating a hamburger—it's reasonably priced, there is easy access to it from a drive-thru and it was at just the right time for lunch break. All these items are true, but do they show the value of the hamburger? What if the true value of the hamburger was in its nourishment to the body?
What if the value of the hamburger was also in the beef producer that raised it? What if the value was in the restaurant owner that sold it to support their family? How do we show value rather than tell about it?
How do we show cooperative value to member-owners?
As you well know, our cooperative was started to form member-ownership in our service area for delivering electricity to member homes, farms and businesses. Eighty-five years later, Steele-Waseca is still delivering electricity to our member-owners and want to show, through our service and programs, how we keep you, the member, in focus.
Rooted in strategic direction from the co-op's board of directors, seven cooperative value areas have been identified that keep our member-owners in focus. These value areas identify the "why" or purpose of our work. The seven value areas include: Quality Service, Cooperation and Collaboration, Life+, Growth, Appreciation, Trust and Innovation. In addition to identifying these value areas of the co-op, we've added an image, a visual icon that represents the value area. The adage is true: a picture is worth a thousand words, and we believe by assigning an icon to each of the seven areas, we'll be better able to show Steele-Waseca work, like programs, rates, projects, and benefits of cooperative membership, in value-form.
While we hope you agree we have a long-standing history of providing great communication on cooperative updates and information, the desire of this enhanced value-communication approach will create awareness and provide additional education for our membership. Over the next three years, Steele-Waseca plans to highlight two to three values per year. While all efforts at the co-op are multi-valued, we feel that by demonstrating projects and happenings through value icons, their purpose will be clearer to our member-owners.
A few changes you'll notice will be use of the value-area icons in our Sparks articles, as well as our website and social media posts. Steele-Waseca plans to bring this visual showing of value to our events, like town hall meetings, as well as our printed messages like news releases and co-op letterhead. Identifying cooperative value will show there is much more to Steele-Waseca than delivering electricity. We also deliver on membership value because we keep our members in focus—even if it's over lunch break while eating a hamburger.
https://swce.coop/wp-content/uploads/2021/11/value-icons-sparks.jpg
774
409
Katie Nelson
https://swce.coop/wp-content/uploads/2016/08/logo-larger.png
Katie Nelson
2021-11-29 09:30:31
2021-11-29 09:33:48
Our focus is you—the member