Electricity Safety
&

Education
Gopher State One Call
Planning a building or landscaping project in your property that requires excavation? It's the law in Minnesota to contact Gopher State One Call two business days prior to starting your project. Gopher State One Call is a non-profit organization that acts as a communications link between homeowners and excavators with utility companies. A call to Gopher State One Call is FREE and within two business days all utility owned underground lines will be marked in the area of the work to be done.
It is the homeowner's responsibility to mark any underground lines that they may own, (drain tile, secondary electrical lines, invisible fencing, sprinklers, etc.). Careful hand digging must be done within two feet of the utility marking.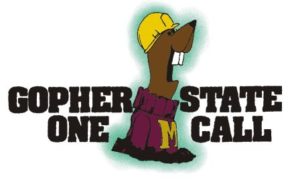 Be Safe. Call Before You Dig.
Power Line Safety
Energy provided by electric utilities is an essential part of everyday lives. The same power used to make life easier can be dangerous. Remember to take caution around electricity.
Don't Touch. Never touch a downed power line or any object that may be touching a downed wire. The power line still may be energized.
Look Up. Know where overhead power lines are and keep a safe distance away when working with ladders or installing objects such as antennas.
Leave The Removal To SWCE. If objects like kites get stuck on the power lines, call SWCE and let us remove the object.
Stay Away. After storms a damaged power line may be in a weaken condition that is a hazard in more ways than one. Never assume the power line is de-energized and be aware the power line may have been physically damaged. Call SWCE for the safe removal of trees leaning on the power line.
If you or someone else does come into contact with an energized power line, call 911 immediately. Do not attempt to touch the person or object that may be in contact with the electrical line. Don't rely on rubber boots, wooden objects or rubber gloves to keep you safe when touching a power line.
Safety Tips For Your Home
Electricity inside your home is no less dangerous than the electricity flowing on power lines. Follow these safety tips.
Insert safety caps in outlets when children are around.
Make sure to plug in appliances into GFCI outlets when used around wet or damp areas, (ie. bathrooms).
Never use a frayed or damaged extension cord.
Never overload an electrical outlet.
Check the rating of the extension cord if using it outside. Not all extension cords are rated for outside use.
Kids and Electricity
SWCE has educated hundreds of children on the importance of electrical safety in and around the home. SWCE has provided electrical safety demonstrations at Farmamerica near Waseca, in classrooms, and for different organizations. If your group is interested in a safety demonstration for your next event, please email jacks@swce.coop or call 507-451-7340.
Quick Links
To report an electrical contact call 911 first. Then call SWCE at (507) 451-7340 or (800) 526-3514.
Gopher State One Call or call 811.
—————————
Safe Electricity
---
Documents and Forms
---
Safety Tips
Energy provided by electric utilities is an essential part of everyday lives. That same power used to make life easier can be dangerous though. Each year about 1,000 people die from electrical related accidents. Remember to take caution around electricity.
Look up. Notice where power lines are around your home and avoid going near them.
Don't use an electrical appliance near a bathtub or sink.
Don't touch anything that runs on electricity when your hands are wet.
Stay away from substations and transformers.
Insert safety caps in outlets when small children are around.
Teach your children how to be safe around electricity.
All extension cords, lights, and appliances used outdoors should be labeled for outdoor use.