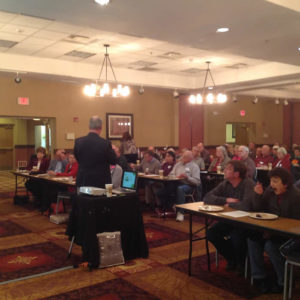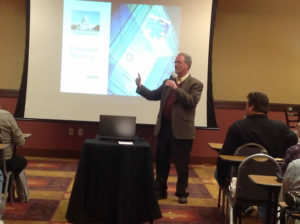 Steele-Waseca Cooperative Electric (SWCE) has had good attendance for town hall meetings.
Many members, spouses and guests were in attendance for SWCE's town hall meetings.  If you have not been able to attend in the past we encourage you to attend future meetings.
General Manager Syd Briggs detailed the co-ops community solar program and how participation in the storage water heater program could allow members to be part of The Sunna Project.
Mr. Briggs provided an overview of Steele-Waseca's participation in the Southern Minnesota Energy Cooperative (SMEC). In addition to Briggs addressing legislative issues an ACRE® (Action Committee For Rural Electrification) presentation was delivered by District 7 Director John Beal. Director Beal stressed the importance of ACRE®
participation to support elected officials who favor legislation in keeping electricity reliable and affordable.
Briggs also highlighted SWCE's community involvement through the Washington, D.C. Youth Tour, Co-ops Yes! Leadership conference in Wisconsin, and the annual Coal Creek Tour to Underwood, N.D.